Products
Eyewear
With over 200 frames to choose from, we offer a range of frames from low cost packages to designer labels. As an independent practice, we have the flexibility to hand pick premium, quality fashion frames, sunglasses and the latest in lens technologies.
We also are able to assist with custom made eyewear:
Prescription sunglasses
Sports eyewear, such as: prescription swimming goggles and cycling eyewear.
Prescription safety glasses: we are an authorized representative of PSG Eyewear, ensuring safety glasses meet Australian Safety Standards.
For your convenience we can process private health insurance claims on the spot through the HICAPS system. Instant rebates are available for all health fund members with optical cover and no gap packages are also available.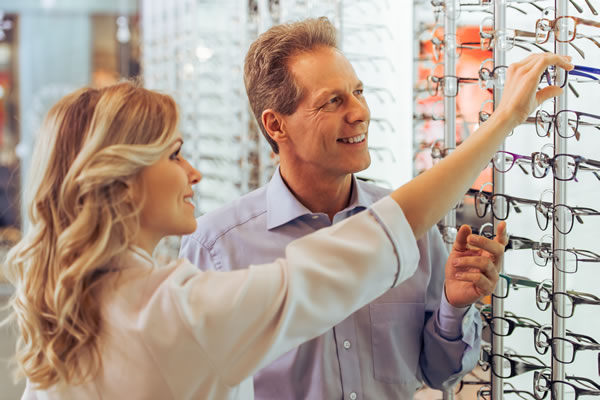 ---
Lenses
A wide range of lenses are available and our optometrists and trained staff will help you understand and decide which lens is best suited for your prescription and lifestyle requirements.
| | |
| --- | --- |
| Single Vision: | Single vision lenses are designed to correct many visual problems such as reading difficulties or distance vision blur. |
| Bifocals: | Bifocal lenses are a common type of multi-focal lens. The lens is split into two distinctive sections. The upper part is for distance viewing and the lower part for near vision tasks. |
| Progressives: | Progressive lenses are the most advanced multifocal designs. The lens power changes gradually from the distance to the reading prescription as you look down the lens. There is no distinctive line visible on the lens. |
Different coatings can be applied to your lenses to help in their performance and look.
| | |
| --- | --- |
| Scratch Resistant: | Lenses can be treated (front and back) with a clear, hard coating that makes your lenses more resistant to scratches. Whilst lenses are not fully resistant to scratching, this coating does offer better protection than a non-coated lens. |
| Tinted Lenses: | There is a wide range of lens tints available depending on your needs. For example, you may require a tint to reduce glare or a shade to enhance cosmetic appearance. |
| UV Treatment: | UV treatment on lenses is available to block the sun's UV rays from damaging your eyes. Harmful UV rays over time can cause cataracts, pterygium (a red/fleshy growth on the whites of the eyes) and other eye problems. |
| Anti-Reflective Coating: | An anti-reflective coating can be applied to lenses to reduce reflective glare from computer screens or from car headlights when driving at night. The coating can create clearer vision and also make your eyes look more natural. |
| Polarised Lenses: | Polarised lenses block-out virtually all UV rays as well as eliminate reflective glare, while increasing visibility. They create a more enhanced and vibrant colour perception, and reduce eye strain and fatigue in glary situations. |
| Transitions Lenses: | Transitions lenses have a light-sensitive tint that adjusts depending on the level of the sun's UV rays. They darken rapidly when exposed to outdoor light and then return to a clear lens when indoors and at night. The lenses offer 100% UVA and UVB protection. |
| Drivewear Lenses: | Drivewear lenses are the only polarised photochromic lenses available that darken when outside as well as when behind the windshield of a car. These lenses react to different weather and daylight conditions, and combined with a high efficiency polarizer, block-out blinding glare. |
Occupational Lenses
Occupational lenses are designed for use in the workplace, to make vision clearer at near and at intermediate distance.
---
Accessories
We also stock a variety of optical accessories:
Contact lens solutions
Eye drops – for treatment of sore eyes, red eyes and eye infections
Cleaning cloths – quality microfiber cloths for cleaning spectacles and sunglasses
Spectacle cases
Spectacle chains, cords
Magnifiers and low vision aids
Vitamin tablets for ocular health