Contact Lenses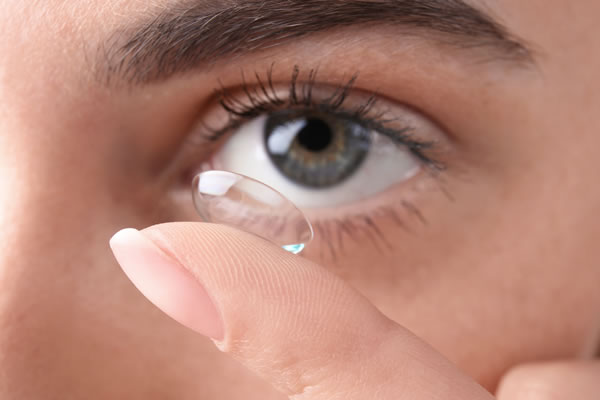 Today advances in technology have made it possible for more people to wear contact lenses successfully.
Contact lenses can be used for full time wear, occasional wear, sport and even to change the colour of your eye (cosmetic reasons).
Before recommending the contact lens type that is best for you, our optometrists will first consider the health of your eyes, your visual needs, lifestyle, the type of work you do and any hobbies or sport that you play.
Disposable Lenses (Daily / Fortnightly / Monthly)
These frequent replacement lenses are designed to be discarded after being worn for a day, a fortnight, a month or 2 months. Although these lenses may cost more per year than a pair of non-disposable lenses, they require less maintenance, are softer on the eyes, are more hygienic, are very healthy on the eyes and save on the cost of cleaning solutions.
Non Disposable/Conventional Lenses
Hard Lenses: Usually made of a rigid oxygen-permeable plastic that only covers part of the cornea. These lenses are usually prescribed when soft lenses are not able to correct your vision fully.
Soft Lenses: Made of a very soft, flexible, water-absorbing material that conforms closely to the shape of your eye, making them very comfortable to wear. These are available in clear, or coloured to change or enhance the colour of your eyes.
Extended-Wear Lenses
If suitable these lenses can be worn for up to 30 nights without removal or cleaning of the contact lenses. For suitability 2-3 contact lens consultations with the optometrist are necessary prior to placing an order.
Coloured Lenses
Coloured lenses are available with or without a prescription to enhance or change the colour of your eyes completely. Available in both disposable and non-disposable form.
Novelty Lenses / Coloured Cosmetic Lenses
Monthly disposable lenses that are fun and exciting in many unique designs. Available in prescription and non-prescription powers for cosmetic purposes – designs include: Cats' eye, Red Devil, White Zombie, Twilight, Blackout, Werewolf, and many more.